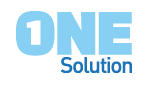 ONE Solution
ONE Solution is a complete email, address book, calendar and tasks solution that can be accessed from the web client, the desktop offline client, Outlook, and a variety of other standards-based email clients and mobile devices. You can deploy it as a software virtual appliance, commonly referred to as Zimbra appliance.
Key features of ONE Solution
... knows everything i need.
Full-featured email, calendar, address book and tasks
Rich and consistent Web and offline user experience across multiple platforms
Simple and powerful Web-based administration
Secure/Multipurpose Internet Mail Extensions (S/MIME) for digital signatures and email encryption
Smartcard authentication, including support for Department of Defense Common Access Card (CAC)
Support for unified communications, with out-of-the-box integration for Cisco and Mitel
Support for a variety of mobile devices (tablets and smartphones), including policy management
Zimbra Outlook Connector for Microsoft Outlook users
Extensibility with Zimlets for adding additional features
Flexible deployment choice between a traditional install on Linux or as a software virtual appliance

BACKUP ONE
The BACKUP ONE service lets you backup your corporate data on the cloud and enables you to restore them in case of unintentional deletion or any damage.
Show more

Pixee.tv
The INDEX ONE service is focused on customers seeking medium or long-term archiving of their data. It enables them easy access and searching through the archive.
Show more